About Us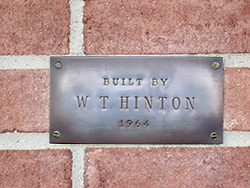 Dick's Auto Service was founded in Camp Springs, Maryland in 1951. The company's namesake built the currrent facility out of brick and blocks, finally completing it in 1964. The company has also grown one customer at a time with a strong customer service base and the time-honored motto of "the customer is always right."

In the same location for 46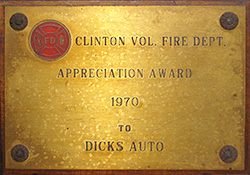 years, Dick's Auto Service has served the community in many ways. One such example was in 1970 when Dick's Auto assisted the Clinton Volunteer Fire Department for three days while the fire station was being renovated. Dick had the only garage at the time that was large enough to house the three Clinton fire trucks and gladly opened up his doors to accommodate them!

Dick's Auto has gone through changes over the years. The original owner transferred the business to two of his employees, Larry and Dwight, in 1997. After the transition, Dick's Auto has kept up with the changing automotive landscape with lifts, the latest in test and repair equipment, and a positive attitude that no job is too big or too small.
We continue to deliver in these challenging times with constant upgrades and training certifications for new model cars, and remain at the cutting edge of automotive service. Dick's Auto is a small shop, with only three bays and three technicians, but this allows greater attention to details for our customers. Whether it is an oil change, lube and tire rotation, or a major engine/transmission change, all jobs are treated with the same planning, care, and cost-effective results. With free estimates via phone or internet, the customer always has a good idea of the bottom line to minimize surprises and keep customers in the loop.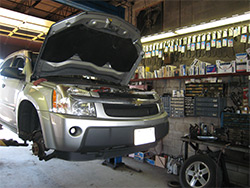 Dick's Auto has also gone green and is environmentally friendly. All hazardous materials such as anti-freeze, transmission fluid, oil, etc. are captured and recycled, including freon from your car's air conditioning.
No matter whether your technician is Larry or Dwight, it is our goal that all customers will have a good experience and become a part of the Dick's Auto family. These techs have a total of eighty-six years of combined experience, making Dick's Auto a fortress of automotive excellence.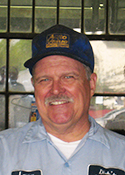 Larry started with Dick's Auto Service in 1967 and is a partner in ownership of the business. With 44 years of experience, he is ASE certified. He is a family man and a member of the community who loves boating on the river and solving your automotive problems.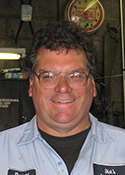 Dwight started with Dick's Auto Service in 1979 and shares ownership of the business with Larry. He is ASE Master Certified and a Certified Maryland Emissions Technician (CMET.) Dwight is also a family man, an active member of the community and your best defense against vehicle breakdowns.