Dick's Auto Offers a Full Line of Services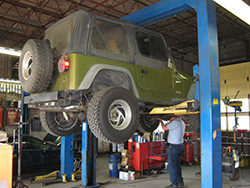 From compact cars to full size, vintage cars to light trucks, Dick's Auto Service is set up to handle all makes and models of cars and light trucks. We use only quality parts--Jasper Engines and Transmissions, Monroe Shocks and Struts, Rigid Hitches, ACDelco automotive parts, and Interstate batteries. Anything installed in your automobile will be of the highest quality and covered by a one year warranty.
Customers also like the honest and concise cost controls Dick's Auto uses to maintain repair integrity and affordability in tough times. Proper diagnosis is key to keeping costs down. The technicians at Dick's Auto Service keep a large notebook based on their years of experience to streamline repairs and eliminate unnecessary costs.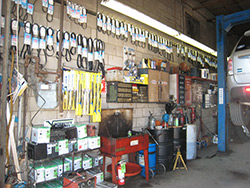 Dick's Auto offers an early morning/nighttime drop off box for customer convenience. Transportation to/from the Branch Avenue Metro station or local addresses will be provided upon request. Payments may be made with cash or credit card (Visa, MasterCard, and Discover.)
We provide a full line of maintenance and repair services for your vehicle. No need to take your car to a dealer--we can offer the same services along with factory scheduled maintenance at 30, 60, and 90 thousand mile intervals.

Here is just a selection of the many services offered at Dick's Auto Service.
Maintenance
Oil & filter change
Filter replacements
Battery service
Wiper blades
Chassis lubrication
Differential service
Power steering service
Transmission service
Brakes
Anti-lock (ABS) systems
Brake pads and shoes
replacement
Hose replacement
Line replacement
Wheel cylinders
Master cylinders
Fuel System
Electronic Fuel Injection
Fuel filters
Fuel pumps
Fuel hoses
Fuel lines
Fuel guages
Fuel tanks
Heating &Cooling
Preventive maintenance
Air conditioning service
Radiators
Hoses
Belts
Water pumps
Thermostats
Heater cores
Electric fans
Fan clutches
Head gaskets
Electrical
"Service Engine Soon"
indicator light
Interior/exterior lights
Instrument guages
Battery, alternator, and starter
Instruments and guages
Electrical wiring
Power accessories
Heater controls
A/C controls
Electronic Climate Controls
Engine "Tune-up"
Exhaust System
Exhaust pipes
Mufflers
Catalytic convertors
Gasket replacement
Tail pipes
Crossover pipes
Exhaust manifolds
Drive Train
Engine overhaul & replacement
Transmission overhaul & replacement
Differential overhaul & replacement
CV shafts
Drive shafts
U-joints
Wheel bearings
Suspension System
Shocks & struts
Ball joints
Leaf springs
Coil springs
Control arms